Description
EMGSM1 Single phase Smart Meter
A remote read single phase meter that comes with modem and SIM card to be able to register for meter reading data via MeterOnline. This meter is the ideal solution for automatic meter reading from anywhere in the world, with readings available via a website at any time.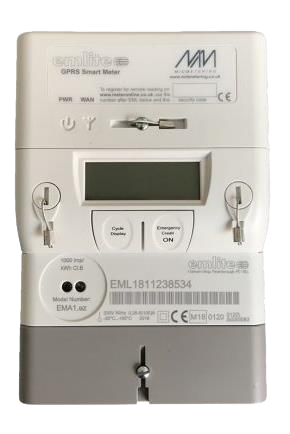 How it works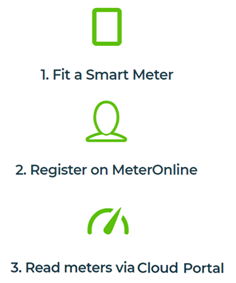 After purchase simply register on meteronline.co.uk using the Serial Number (e.g. 1803176422) and the Security Code (e.g. 6721).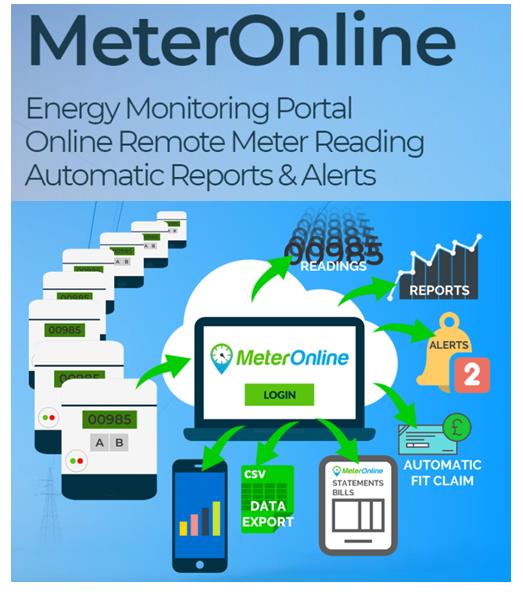 Suitable for general use and the collection of micro-generation metering data, EMGSM1 provides remote collection of meter readings especially generation metering of wind, solar and any other renewable energy installations.
The meter is of modular construction and allows a range of communication modules to be fitted to allow for future developments in remote metering.
The meter is a fully MID approved device making it suitable for many applications where approval for billing purposes is needed. Optional display functionality includes Time-of-Use Rate Switching, Power Quality Recording, Active (kWh) and Reactive (kvarh) energy measurement across both import and export.
The overall solution has been designed to minimise installation time and reduce the need for return maintenance visits. An indication of the connection status and GSM signal strength is provided on the meter display. This single display allows the installer to leave site confident that the installation is fully operational with a robust communication link.
The SIM is installed ready for use thus saving time and effort on site. Multi-network SIMs are supplied using the O2, Vodafone and EE networks for optimum coverage of all areas.
Electrical:
Nominal voltage: 220V—240V
Maximum voltage: 276V
Voltage withstand: 415V continuously
Nominal frequency: 50Hz
Frequency variation: ± 5%
Basic current (Iref): 5, 10, 15 and 20A
Maximum (Imax): 100A
Metrology:
Accuracy Active energy: Class B, to EN 50470 1-3
Reactive energy: Class 2, to IEC 62053 –23
Meets the essential requirements of the Measuring Instruments Directive (MID) 2004/22/EC
Environmental:
Temperature Range: -25°C to +55°C
Ingress protection: IP52, to BS EN 60529
Physical:
Terminal arrangement: BS 7856
Main Terminal: size 8.2 mm diameter
Terminal Construction: solid brass
Dimensions (including module): 182H×126W×68D